Configuration Screen Shots
Submitted by Mick on Fri, 2008-09-12 16:58.
::
This is a default installation of ComStudy with optional World and Alaskan terrain. Notice that by default the program is installed to your C:\ drive. This can be changed, but is not recommended. Depending on your package and age of your installer, YMMV.
Note that as of this writing the Secondary Server is not used and can be left blank. If you wish to enter the information, the full string is: backup.radiosoft.com
Note that on most installations you will not have the Alaska files under Additional Terrain Files and your Global 30'' Terrain will either be blank or in red. Force Terrain File should be set to ALL unless you have a need to force a terrain file. The full path to the Census file should read: C:\TRN\Census2000_83.dat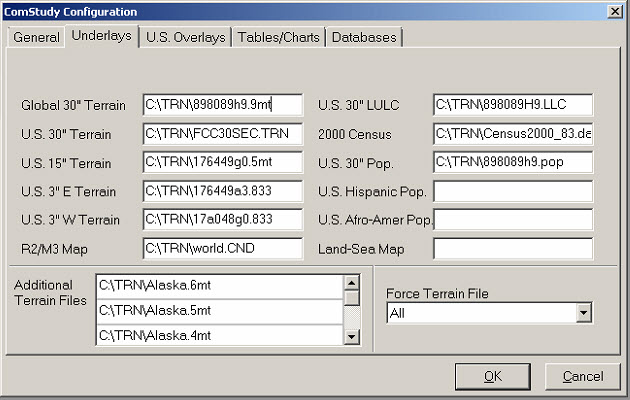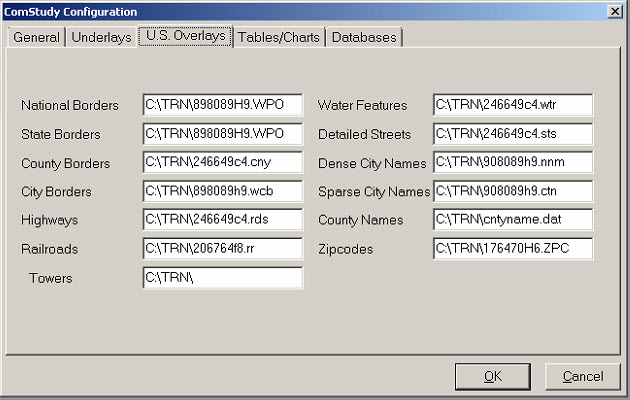 The first 7 lines on the right are optional Frequency Finder files that can be downloaded from the main website (LMRFF9.exe).

In most cases, the only databases that should be entered are AM, FM, and TV. All Land Mobile databases have been moved to online-only. Local copies will likely no longer work.